The Amazing World of Gumball: The Movie is a FanFiction by Xavierfan
Genres
action, adventure, comedy, drama, mystery, romance, science fiction.
Sypnosis
So HIM decides to find its own purpose in life, and carry out its revenge on Nicole (Gumball's mother) by destroying life on earth by using a deadly storm. Gumball, Darwin, Penny and there friends must then try to save Nicole.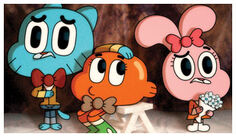 Plot
HIM gets angry when he sees something on one of Nicole Watterson but often times he uses Gumball's innocence to move the plans along. The next day, Pretty much all of Elmore go to Hawaii to have the best vacation with Nicole, Gumball y Darwin with Penny, Bobert, Rachel, Carrie and Duncan.
Characters
Main/Heroes
Villains
Minor Characters
Richard
Anais
Tobias
Tina Rex
Miss Simian
Principal Brown
Rocky Robinson
Mr. Small
Song
"The Flame" (Cheap Trick song)
"Rebirthing" song by the Christian rock band Skillet
"My Heart Will Go On" sung by Celine Dion
"Crash And Burn" sung by Savage Garden
Trivia
The Directors of: Pokémon: The First Movie, Pokémon: The Movie 2000, Pokémon 3: The Movie, Pokémon 4Ever and Pokémon Heroes.
Gallery